Take Control of Your Comfort
In order for you maximize your HVAC system's efficiency and better control your level of comfort, you must have a working thermostat in your home or business. With so many options available, it's easier than ever to find a thermostat that fits just about any personal need or lifestyle. At Elsass Heating & Cooling, we're experts at identifying which control will most closely fit your home and your budget.
3 Types of Thermostats
If you're wondering which type of thermostat is right for you, follow our guidelines below.
Non-Programmable
– You don't make frequent changes to your home's temperature setting, you would simply like to set it to a single temperature and leave it.
– You don't have a need for advanced settings or scheduling.
Programmable
– You want to maximize your energy efficiency through advanced programming and scheduling options.
– Features such as touchscreen technology, maintenance reminders or auto heat/cool changeover are appealing.
Wi-fi / Smart Control
– Ideally suited for today's connected home with remote access from anywhere with wi-fi enabled device.
– You're looking for a thermostat that's compatible with your other connected devices such as Amazon Alexa, Google Home, Samsung SmartThings, etc.
– You're into the latest in smart technology such as geofencing, smart sensors, auto alerts and advanced comfort settings.
Smarter Home Comfort
Elsass Heating & Cooling has the edge on our competition when it comes to smarter home comfort.  Our wi-fi thermostat line-up is sure to impress any technology enthusiast.
Infinity Control Wi-Fi
The Infinity® System Control is designed for homeowners who understand the value of precision comfort and an easy to use, intuitive user interface. With wireless connectivity, occupancy sensing capabilities and built-in smarts, the Infinity System Control puts you in command of comfort and energy savings like never before.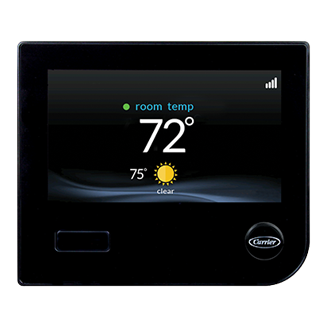 – Full-color touch screen with photo upload capability

– Local weather 5-day forecast

– Occupancy sensing to automatically select comfort or energy saving system settings

– Remote access via Internet as well as Apple® and Android™ smartphone or tablet devices1

– Real-time energy use tracking

– Intelligent, heating- and cooling-comfort staging capable

– Auto changeover between heating and cooling

– Controls indoor air quality products

– ComfortFan™ technology capable with four levels of "constant ON" fan speeds

– Up to 8-zone capability with custom naming feature

– Ventilation management capable
– Measures and manages airflow to each zone and adjusts for quiet comfort

– Measures percentage of airflow to each zone for best operation

– Day-at-a-glance 7-day (wake, away, home, sleep) programming

– Advanced smart setback for best energy savings during "away" and ramp up periods

– One-button Touch-N-Go® quick-settings-change feature

– Simple vacation programming controls temperature and humidity

– Choice of TrueSense™ dirty filter detection or fixed-schedule based filter replacement reminders

– System maintenance reminders

– 10-year parts limited warranty
Ecobee3 lite Pro Powered by Carrier
– Tailors itself to your schedule, your personal comfort preferences and the weather outside. It can also show how much money you've saved each month and give you insight into your heating and cooling equipment performance.

– Pair your ecobee3 lite with sensors (sold separately) around your home for greater occupancy monitoring and room-specific temperature adjustments.

– Easily adjust temperature

 

and comfort settings from your Android and iOS devices.
– Get free monthly reports

 

on how much energy you've saved and tips on how you can save even more.

– Connects with your accessories

 

to easily manage your humidifiers, dehumidifiers, and ventilators.

– Works seamlessly with third-party smart home platforms such as Apple® HomeKit®, Amazon® Alexa®, Google® Assistant, Samsung® SmartThings® and IFTTT®.

– Five-year limited warranty when purchased through and installed by a Carrier dealer.